TUSCALOOSA, Ala. – A University of Alabama student and alumnus were among 41 Americans selected to study in the United Kingdom through the prestigious Marshall Scholarship.
Jackson Foster, of Fort Lauderdale, Florida, and Nathaniel Trost, of Tuscaloosa, bring the number of UA students and alumni to receive the award to five. The scholarship funds the opportunity for American students to pursue graduate studies at U.K. institutions.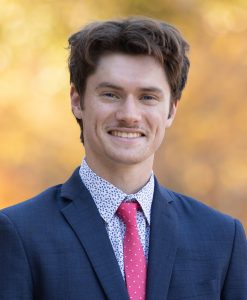 A Randall Research Scholar and Blount Scholar, Foster is a student in the UA Honors College and College of Arts and Sciences with a double major in religious studies and history. He plans to pursue master's degrees in medieval and early modern studies as well as data science for the digital humanities at Durham University.
"To be selected as a Marshall Scholar is a massive vindication of myself, my work and the values I feel it represents," said Foster. "Namely, identifying social injustice in the past and attempting to correct it in the present. I'm deeply passionate about the roots of Anglo-American criminal law – uncovering, in other words, the past choices that have informed our current manners of organizing life and governance – and it is exciting to see that the Marshall commission is as well."
Through the programs at Durham University, Foster believes he will improve his previous historical scholarship while also gaining new perspectives of early modern law and society.
"Winning such a prestigious scholarship is testament to the scholars at UA and beyond who, in their generosity, supported me with remarkable skill," said Foster. "I am a reflection of them and too many other professors to name. I hope I also reflect well on the University at large, which afforded me the academic freedom and opportunity to make this dream a reality."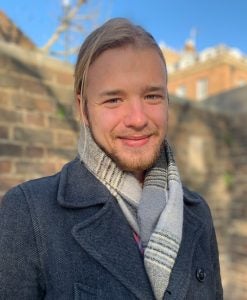 Trost, who graduated summa cum laude from the UA College of Arts and Sciences in May as a double major in studio art and music composition, and was a Blount Scholar, will pursue a Master of Fine Arts at Goldsmiths, University of London, focusing on materials and stories related to coal use and its effects on people and the environment.
"Being selected for this award gives me the resources to dig deeper into the art making and community-based work I'm interested in," said Trost. "I am grateful for the opportunity to represent the arts through a scholarship often awarded to more traditional academics."
Trost plans to continue his research in the industrial processes of coal use, and its human and environmental consequences through the lens of socially engaged artwork produced through visits to coal mining communities, powerplants and coal ash storage sites.
"I create sculptures that focus on the stories contained in materials that affect our everyday lives," said Trost. "I am particularly interested in materials associated with industrial process, and materials that have helped build the world we live in and whose use have often unforeseen costs. These are costs which are almost always offloaded on the most vulnerable citizens."
Foster and Trost join last year's Marshall Scholar Caroline Yuk as the only three UA students to earn the award in the past four decades.
The UA Office of External Scholarships and Fellowships assists students in the pursuit of national and international awards including the Marshall, Rhodes, Goldwater and Boren, among others. Students interested in applying for awards that require an institutional endorsement can learn more on the External Scholarships and Fellowships website.
Source: https://news.ua.edu/2021/12/ua-student-alumnus-receive-marshall-scholarships/